Yes - we are aware that it is only half-way through September and Christmas is a good 3 months away but they say that 'Christmas starts in July' when working in the hair and beauty industry
- so, to be successful this festive season you need to start planning your retail marketing and activities now!
This is totally something you need to capitalise on. As a salon, you can make a hefty profit selling retail gift packs that have been brilliantly put together by your favourite professional hair care brands like
Matrix
,
Denman
,
Affinage
and
American Crew
. You have the tools, now you just need to come up with a brilliant Christmas Retail Marketing Plan..
Here are our TOP TIPS to maximise the retail sales in your salon:
Number 1 TIP - PLAN AHEAD! Brainstorm ideas of what you want to do and when. Be consistent throughout the Christmas Retail period and make sure your whole team is on-board with you. You have access to some of the best hair and beauty products around - make sure your clients know this and treat themselves and their loved ones.
Put festive looking gifts beside the reception desk to tempt your customers as they are paying. Ensure they are arranged at eye level as much as possible as this is more successful at generating purchases.
Decorate them with Christmas decorations and label them clearly. Create christmassy displays that are a talking point for all your staff. "You've got to start Christmas Shopping as soon as possible nowadays so we thought we'd make a display.." for example.
Even make the most of your salon window space - passers by that aren't even clients may be interested.
High end electricals such as those from Diva Professionals and Babyliss Pro also make ideal Christmas presents that will suit just about anyone from your salon staff to your family members (from teen to adult.)
Don't just stop at the physical, the brick and mortar - take to Social Media and send emails with all the info your clients will need so they include you in their gift buying activities.
Here's a quick look at all the best Christmas Retail ideas we have for you so far.

Make sure you get your orders in as soon as possible as stock supplies are always limited on these types of special edition items.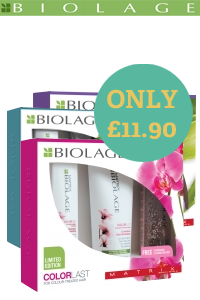 Matrix Gift Packs (Total Results, Biolage and Oil Wonders)
First we have the Biolage gift sets
Perfect for those that like to take special care of their hair.
You can choose between Colorlast, Fiberstrong, Hydrosource and Keratindose - the closest you get to a hair treatment in a hair care routine.
Best of all, each pack comes with a FREE Sugarshine Illuminating Spray to ensure your hair is sleek and shiny all through autumn and winter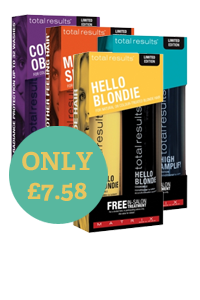 Next we have the Total Results range
A more affordable duo pack. The perfect convenience gift/stocking filler for any man or woman
Each Total Results Box Contains 1 x 300ml Shampoo and 1 x 300ml Conditioner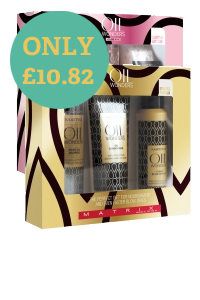 Finally from Matrix we have the luxurious Oil Wonders range
Ideal for mature hair or anyone suffering from the harsh winter weather - these specially formulated oils will soak into the hair and scalp to soothe and protect.
There's even a Volume Rose version for those with fine hair
In case that wasn't enough, each Gift Set comes with a FREE hair oil. Choose between the FLASH Blow Dry oil which is a quickly absorbed oil that makes blow drying quicker or the Volume Rose Pre-Shampoo oil which cleverly detects the parts of your hair that need oil, leaving the rest light and voluminous.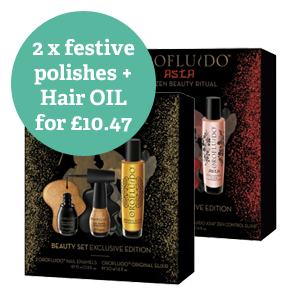 Orofluido Hair & Nail Beauty Sets
Treat someone you care about this Christmas so they can treat their hair to some luscious Orofluido oil. Their nails will also look gorgeously festive!
All you need to do is choose between red and pink glitter polish or the equally Christmassy black and gold glitter polish combo.
American Crew Gift Packs including King Dopp Bag
Available late September
We have the gift that every man would be pleased to receive this Christmas Day
This super stylish, vintage leather Dopp Bag contains an Alternator Finishing Spray, a pot of Fiber, a 3-in-1 shampoo/body wash/conditioner and Moisturising Shave Cream
It's the ideal set of everyday essentials in a handy and attractive bag
All for ONLY £20.30
Also from American Crew and available late September are the Rock N Roll Duo Packs
There are three affordable sets to choose from to suit the receiver of the gift - Fiber, Forming Cream or Pomade
Each styling pot comes with a 3-in-1 Shampoo/body wash/conditioner
ONLY £10.50 for the set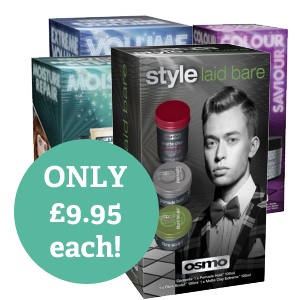 Osmo Care & Grooming Gift Packs
From Osmo we have a choice of Hair Care sets in Moisture Repair, Extreme Volume or Colour Saviour, so choose the one that suits your recipients hair type the best.
All the hair care packs contain a shampoo, conditioner and hair treatment.
Or there's the Style Laid Bare Gift Pack, which contains: 1 X Matte Clay Extreme, 1 X Pomade Hold and 1 X Fibre Sculpt. Perfect for the chameleon hair stylist you know.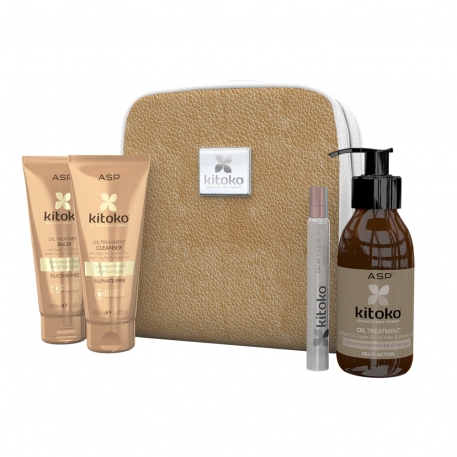 Affinage Kitoko Ultimate Indulgence Gift Pack
The perfect gift for anyone that loves the Kitoko range this Christmas
This Gift Set Contains: Kitoko Oil Cleanser, Oil Balm and Treatment Oil
All kept neatly in a luxurious-looking Gold Toiletries Bag
All this and a FREE Hair Fragrance for only £19.45
Diva Rapida 3700 Pro Dryers and Intelligent Digital Stylers
Now for the electricals - Diva Pro has just released a matching set of Intelligent Digital Stylers and Rapida 3700 dryers.
They come in a range of on-trend colours like gorgeous pastelly blue or rosey pink as well as stylish black.
These are among the best stylers and dryers available on the market so grab them now while they are on offer!
Denman Wet & Dry Detangling Kit + Coloured Combs
And finally we have everyone's favourite brush and comb brand - Denman. An everyday object in generations of everyday life. For the Christmas season they are offering a Wet & Dry Detangling Kit.
This kit contains a Precision Wide-Tooth Rake Comb which detangles wet hair and a Tangle Tamer Ultra brush which effortlessly and painlessly brushes through dry hair.
As well as this kit, Denman are also offering an amazing deal on their coloured Precision combs.
BUY ANY 6 PRECISION COMBS IN ANY COLOUR* FOR £15 (nets to only £2.50 each!) - Available in black, pink, green or NEW BABY BLUE *Excludes Carbon Combs.
So, make Christmas extra fantastic this year with some extra money from your business through retail sales.

And make it stress-free with convenient Christmas shopping with Salon Supplies.