As per the nature of fashion - the shape and size of eyebrows has waxed (pun intended) and waned over the decades.

Salons have always provided an Eyebrow Service of some kind to their clients to 'keep their bushy brows in line' but recently we have seen eyebrow styling come into its own in a whole new way. Eyebrows no longer need to be just 'groomed' and following the rules but are encouraged to take on a whole personality and preferred style and even be coloured in the same way we colour our hair.

It's now just as important to know what is trending with eyebrow fashion as it is in hair fashion. And it's fair to say that they have changed just as much as hairstyles have over the decades. They have become a beauty obsession like never before and when done right, can make your clients feel totally groomed and gorgeous.

We had pencil thin eyebrows in the 1920s and era of silent film and then heavily shaped and manipulated arches in the wartime era of the 1930s and 40s. We then snapped back to thick yet groomed brows in the 50s and 60s before becoming lighter yet more natural in the 70s and heavy and bold like never before in the 80s. As you may remember it all went drastically different in the 90s with fashion icons like Kate Moss opting for light thin lines - leaving many women with over-plucked brows, struggling to grow them back in throughout the 00s and in time for the 2010s when a new eyebrow-era began. It's interesting to note that until this point in history, eyebrows had always been used to accentuate other beauty aspects of the decade. Whether that be the light pastel eye shadow of the 90s, the intense sparkling eye-liner of the 70s or just to compete with the big bold hair style of the 80s, eyebrows were an after thought. Needing to be kept in check but never really the star of the show.

But thanks to stars like Cara Delevingne, the natural beauty of the eyebrow was finally realised and fully came into its own. Now, it's the eyebrows that earn centre of attention coining their own phrase as 'being on fleek.'


On the runway we've seen everything from sparkley eyebrows, colourfully-painted eyebrows and my personal favourite the 'boy-brow' which features a feathery, thick and undone look but which has been carefully groomed to be that way. It's beautiful, natural and makes our deserved brows the stars of the show.

With the booming of eyebrow styling and fashion this decade - we have laterally seen more and more new and improved eyebrow colouring and sculpting tools being produced. Like the..
Hive Of Beauty Brow Waxing Kit
List price

£23.95

ex vat
Information
HIVE® of Beauty's new Brow Waxing Kit allows beauticians to offer a fantastic service to their clients. It's a compact, easy to use - essentially a complete 'all-in-one' business solution
Contains: 1 X Petite Compact 200cc Wax Heater, 2 x 50g Sensitive Hot Film Wax Discs, 1 X Pre Wax Cleansing Lotion 200ml, 1 X After Wax Treatment Lotion 200ml, 1 X Pack of Mini Disposable Wooden Spatulas (50), 1 X Pair of Angled Tweezers.
Apraise Eyelash & Eyebrow Tinting Salon Starter Kit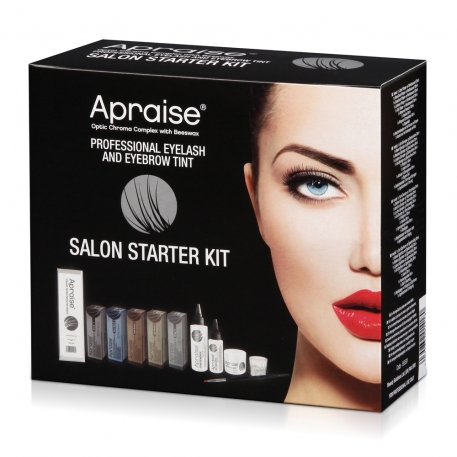 List price

£19.95

ex vat
Information
Professional Starter Kit for any Salon looking to offer an Eyelash & Eyebrow tinting service.
Kit Contains: Black Eyelash & Eyebrow Tint 20ml Dark Brown Eyelash and Eyebrow Tint 20ml Blue Black Eyelash and Eyebrow Tint 20ml Light Brown Eyelash and Eyebrow Tint 20ml Grey Eyelash and Eyebrow Tint 20ml Stain Remover 100ml Petroleum Jelly 50ml Tint Developer 50ml Protective Eye Sheets (96) Tinting Brush Dappen Dish