We are excited to announce that the incredible
Affinage Salon Professional
range is now available to buy through our website! (*Subject to regional availability).
We thought we'd kick things off with a blog post just to introduce you to the different ranges
Affinage
has to offer and why you should be trying them..
that covers everything from
regular shades
,
tone on tone shades
,
intense reds
,
gothic shades
,
fashion shades
,
pigment correction
,
highlighting
and even
colour removal
!
These products have all been formulated to care for hair as well as deliver hair colour that is long-lasting, vibrant and versatile in the hands of a professional.
Award nominated, the
Kitoko
range is a beloved presence in many salons. It represents health and beauty of the highest degree. With a system for every hair type your clients will fall in love with everything from the
Oil Treatment
to the
Age Prevent range
and want to take them home for themselves.
the exhaustive
Affinage styling range
has everything you need to achieve shine, texture and hold for any hair length. Each product clearly states what it should be used for and the amount of HOLD and SHINE it will give.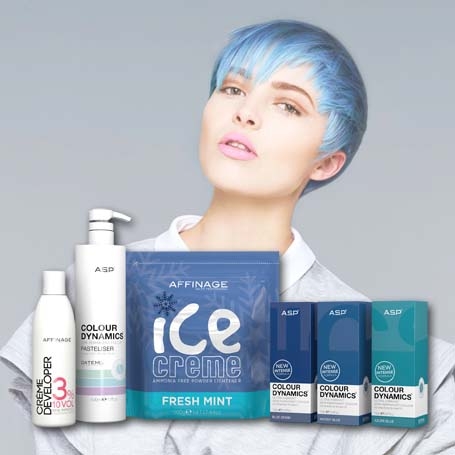 and give you all the tools you need to accomplish this. The newest one being
'Denim Hair.'
This particular kit contains 1 X Ice Crème 500g, 1 X Colour Dynamics Moody Blue, 1 X Colour Dynamics Azure Blue, 1 X Colour Dynamics Blue Denim, 1X Pasteliser and 1 X 10 Vol Developer 250ml.
The kit includes 'Get the Look' recipes for you to follow keeping you as current as possible in the industry and impressing your clientèle.
and how to achieve them with their products.
Currently they are showcasing their
Candy Pop
looks. Here is a taste but visit their website for more and follow them on Facebook, Twitter and Instagram to be kept up to date with new releases..
It's clear to see that Affinage is an exciting range of professional salon products and as a brand are purely passionate about the hair and beauty industry. They are active, innovative and definitely one to watch.