Just like nail-art enthusiasts around the world, we were in awe of mirror nails that started to appear on celebrities like Kylie Jenner in June of this year. It was just a matter of time before the professional nail brands dreamt up of a way to make this available to the public so when we heard
The Edge
had developed their own nail powder polish in
Chrome
and
Holographic
finishes, we couldn't wait to try it out for ourselves. We thought we'd give the
Chrome
nail powder a go first on some freshly prepared almond-tipped nails. The powder comes with two small, sponge, applicators, and after some experimenting, we found that the best finish came from following the instructions included by
The Edge
plus the use of a no wipe gel top coat or rubberised top coat (one that isn't porous.)
Step 1:
Apply 2 colour gel coats to clean, prepared nails - we recommend black for a pure chrome finish or coral for rose gold chrome nails but you can use any colour!
Step 2:
Cure each coat for 60 seconds under an LED lamp or 120 seconds if it's a UV lamp.
Step 3:
Apply a no-wipe Hi-Shine UV/LED top-coat and cure (This part is important).
Step 4:
Using the applicator, rigorously rub the Chrome powder onto the nails and into the gel. If you are using a colour under the chrome other than black we recommend only using one layer of chrome so you don't lose the colour underneath.
Step 5:
Brush away any loose powder that you don't want to show in your final design.
Step 6:
Apply a no-wipe Hi-Shine UV/LED top-coat and cure to seal in the chrome powder. As you can see, the results were stunning and just what we'd hoped for. Perfect for the Christmas Party Season - we can't wait to try the
Holographic powder
now.
Try it for yourself or add a new 'Mirror-Nails' service to your beauty salon's menu:
Available in: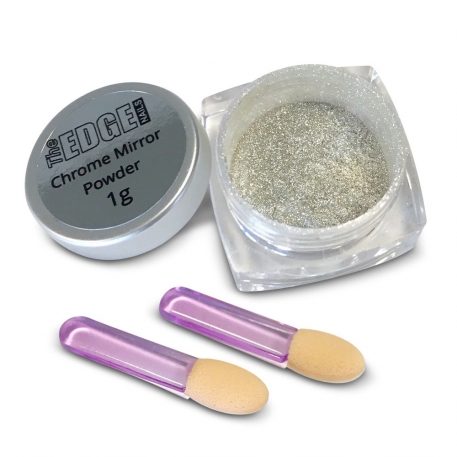 ONLY £5.95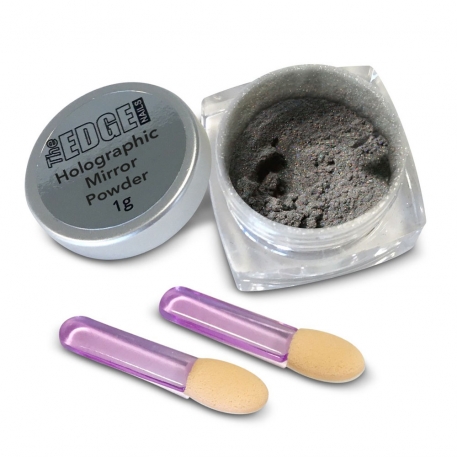 ONLY £5.95
Update: Holographic Nails
Our resident Nail Expert finally had a chance to also try out the
Holographic Powder
from
The Edge
. More beautiful results and a perfect Christmassy look! TOP TIP: The holographic powder doesn't work as well with a no-wipe top coat. Instead, apply it with a wipe-off gel top coat after wiping the nail with a dry lint-free cloth (no wipe off solution).