As expert hair colourists and beauticians - you guys already know what your clients want and what looks good on them during Autumn. I was on the phone talking to one of our customers from a local salon today and as she was ordering her regular hair colour shades, she paused, saying: "Oh, we're getting more into Autumn now - I better get 2 lots of 4-89.."
With Autumn comes its own colour palette. Warm, deep and rich tend to be used to describe most colours. With a few ash to neutral pale shades to reflect the colder weather. The colour palettes used at this year's
New York Fall Fashion Pantone Color Palette
were definitely an indication of this with names like
Tawny Port
,
Butterum
and
Navy Peony
.
The Autumn Colour Palette of London Fashion Week was similar with many golden tones and a
Royal Lilac
in the place of the deeper port shade.
To give you a little inspiration and inform you of what tools are at your disposal - here are the latest releases in hair and nail colour inspired by the season for you to work your magic on your clients with.
ORLY: Velvet Dream Autumn 2017 Collection
The latest Collection from
ORLY
is definitely a reflection of the current fashion palettes. The latest
Velvet Dream
Collection features 3 deeply rich cremes in red, purple and blue alongside 2 light cool tones and a multi-dimensional shimmer.
There are 6 X 18ml lacquers and 9ml Gel FX pots available in the following shades:
Silken Quartz
- an icy, nude shimmer
Just Bitten
- a deep dragons blood red jelly-creme
Black Cherry
- mulled wine plum jelly-creme
Velvet Kaleidoscope
- a dense shimmer made up of rozy bronze and copper flecks on a teal base
Blue Suede
- a rich, denim-blue teal
November Fog
- a cool lilac creme
See the whole of Orly's Autumn 2017 Collection: Velvet Dream here..
Matrix Colour Sync Vinyls
Moving onto hair - we've seen a lot in the way of pastels and softer fashion shades so far this year - but all that is about to change with Autumn and Winter - bright, saturated colour is back. The aptly named
Color Sync Vinyls
from
Matrix
feature the following 3 shades:
Midnight Violet
,
Cobalt Blue
and
Crimson Red
A gorgeously rich palette of three bold shades, perfect for dialling up your client's autumnal look. They contain Vivid Dye Technology which is a shiny and vibrant dye that reflects even on darker hair. If you buy 1 of each this month, including a clear, we will supply you with a swatch chart for free (while stocks last). Or if you get 2 of each, (incl. 2 X clears) you'll get the swatch chart and an exclusive kabuki brush! Perfect for BLENDING and BLURRING when applying colour.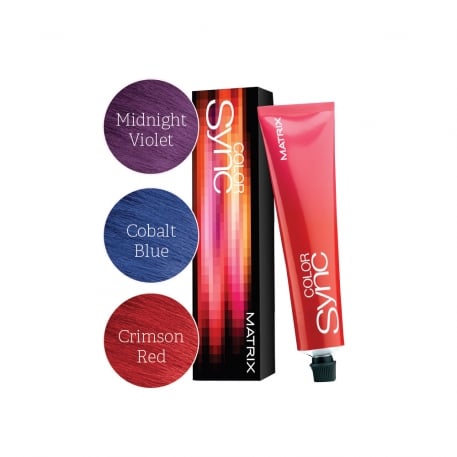 Matrix Socolor Beauty Extra Coverage NUDE COLLECTION
Not only have
Matrix
answered the demands of the fearless, fashion-conscious clients, but they have also released a new set to compliment their new Extra Coverage SoColor Beauty range. These 5 new shades range from warm, sun-kissed nudes to cool, smokey ash. Perfect for those clients that are looking for a natural yet sophisticated and complimentary look. All the while ensuring their hair stays in great condition.
Schwarzkopf Igora Royal Opulescence Collection
And finally, we take a look at the New
Opulescence shades
from
Schwarzkopf
in their
Igora Royal
range. Claimed as THE RENAISSANCE OF COLOUR! These 6 shades were inspired by Renaissance paintings and royal fashion, formulated to produce luxurious and vibrant finishes in natural shades The Shades are available in:
Golden Dawn
,
Sheer Mauve
,
Powder Blush
,
Fiery Copper
,
Royal Russet
and
Velvet Slate
.
SOFT ILLUMINATION TUTORIAL
NATURAL ILLUMINATION TUTORIAL