With Summer just around the corner, women and men across the country will be visiting their salon for the inevitable 'blondeover' season. Blonde hair services represent a huge 60% of a salon's business but is often also the most challenging for a colourist. Some clients will be blonde-veterans, revisiting for a touch up to refresh and enhance their blonde locks while others will be taking the plunge for the very first time - excited to live life as a blonde. Most hairdressers will remember the time when going blonde just meant a simple bottle of bleach but these days, thankfully, there is a lot more to it. You have different tones of blonde to choose from and caring for the hair through this harsh process is now imperative. This is why
Schwarzkopf
have come up with a
COMPLETE BLONDE SYSTEM
for any and all blondes. The
Blond Me
range provides the professional colourist with everything they need to delivery a totally bespoke, blonde look to their client without damaging the integrity of their hair. These gorgeous blondes represent Schwarzkopf's Blond Me campaign and represent the following key skills: 1. HOW TO ACHIEVE THE CLEAREST BLONDE ON DARK BASES? 2. HOW TO GO FROM DARK TO BLONDE? 3. HOW TO CREATE INDIVIDUAL LOOKS WITH FREEHAND TECHNIQUES? 4. HOW TO TIPTOE INTO BLONDE? 5. HOW TO CREATE AND MAINTAIN COOL BLONDES (WITHOUT BANDING)? 6. HOW TO LIFT NATURAL AND COVER WHITE HAIR AT THE SAME TIME?
Step 1: Lightening
Obviously, the first step to going blonde is the Lightening Process, taking that client's hair up to the level classed as 'blonde.' Obviously, this process will be different with each person depending on their original hair colour and how blonde they are looking to go. The good news is, and what is truly revolutionary about
Schwarzkopf's Blond Me
range, is the addition of Bond Strengthening technology in its lightening products AND its hair care products! This means you can lighten hair with minimal hair breakage and push the boundaries for your clients more than ever.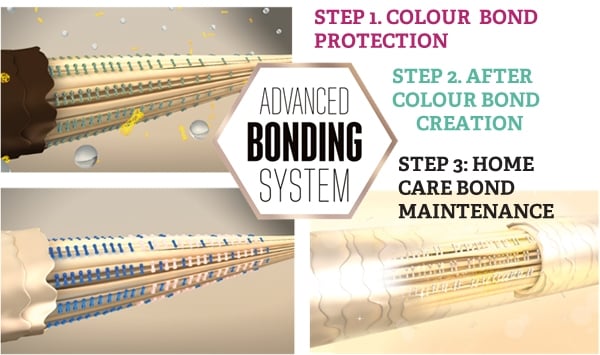 The Blond Me
range includes a
Premium Lightener
perfect for all-over lift (up to 9 levels) or a
Paint-On Lightener
designed for more precise effects such as balayage highlights and contouring.
Blond Me
range also includes some hi-lift tubes (up to 5 levels) which also include the Bond Strengthening technology. This means there is no need for bleaching beforehand or a further additive when mixing together with the Developer so your client won't need to spend any more time in the chair and you won't need to use a higher percentage of peroxide. Available in
Ice, Sand and Steel
tones. There is also a lifting blonde formula perfected for covering and blending with grey hair in the
range which comes in
Caramel, Ice, Sand and Irise.
and a
Hi-Lighting
version developed for naturally dark or previously coloured hair in
Cool Rose and Warm Blonde.
Step 2: Toning
As any professional colourist will tell you, the battle you fight with blonde hair is not with LIFTING the hair - but with toning it. It's easy to lighten someone's hair but to achieve a gorgeously flattering golden, ice or even rose blonde takes skill and a specially-formulated
Toner
. The
Blonde Me
range includes two types of toners. An
Additive Toner
which will tone the hair during the lightening process or the popular
Instant Blush Creative Pastel Toners
which have already gained an appreciative following on Social Media platforms like Instagram. The
Additive toners
have been formulated to ensure your lightened hair turns to a more traditional cool and icy finish or the more modern and trendy pastel rose in one single process during lifting. These tones will then last in the hair until your client's next salon visit. The
Instant Blushes
are a different kind of toner and product altogether. Ideal for those customers that like to play with their hair colour, they can have a differently toned blonde every month of the year or even more than one at once! Choose from Caramel, Apricot, Ice, Lilac, Sand, Steel Blue or Strawberry - lasting three washes.
Step 3: Blonde Hair Care
The
Blond Me
range doesn't just stop at delivering the perfect and lift and tone of blonde hair for every individual client, but it includes a hair care range which is just as bespoke, for cool, warm or any blonde hair
AND ALSO RESTORES HAIR KERATIN!
Cleansing Conditioner
available designed to clean and condition your hair in one step without stripping your hair as a normal shampoo would do. This is ideal for blondes, helping any toning last longer and preventing any unnecessary damage to the lightened hair surface. There are two enhancing sprays to choose from
the Spray Conditioner for Cool Blondes
or the
Smoothing Shine Elixer Spray
for the perfect blonde finish.
Cool Blondes,
Warm Blondes
and for the most damaged of blonde hair, an intense Keratin Restore potion with
ADDED BOND PROTECTION
!
Complete Blond Hair System
dedicated to all the blondes or blondes-to-be of the world that walk through your salon doors.