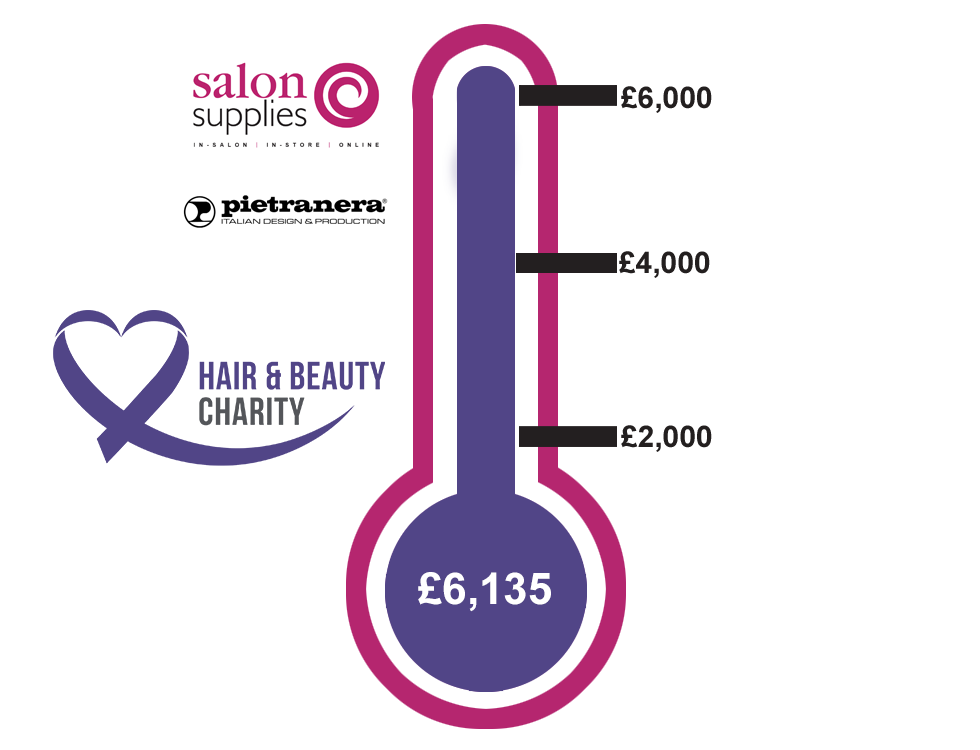 2.5% of ALL Salon Supplies'  Pietranera  sales in 2019-2020 were donated to The Hair & Beauty Charity!
Managing Director of Salon Supplies, Ian Aherne:
"We are delighted to be involved in supporting The Hair & Beauty Charity whilst encouraging our customers to buy into a brand that we truly believe in. Everyone will have something to gain from this."
We are delighted to announce that a total of £6,135 has been raised and donated to
The Hair and Beauty Charity.
This was following a 365 day campaign to contribute a percentage of all
Pietranera
furniture sales to the organisation to help provide financial support to those who need it within our industry.
The
Hair and Beauty Charity
is THE official charity for the hair and beauty industry; an independent service dedicated solely to helping hair and beauty professionals. The people they help are forever at the heart of everything we do and they receive over 300 new applications every year from people with nowhere else to turn.
Everybody has different circumstances, and
The Hair and Beauty Charity
provide financial support to those living tough lives due to illness, disability, domestic violence or other difficult circumstances. So far, they have helped thousands of people live a better life. Last year, 'The Hairdressers' Charity' (now re-branded has The Hair and Beauty Charity) received more than 300 applications for help, and currently has more than 100 long term beneficiaries.
Salon Supplies has been supplying and supporting thousands of Hairdresser's and Beauty Salons for nearly 5 decades since it's establishment in 1972. Although we are predominantly a hair and beauty wholesaler we are involved with all aspects from events and education to business support and finance, and with the past year being one of the toughest ones yet, we are proud to be involved in aiding and contributing to such an important charity.
Furniture Manager of Salon Supplies, Lee Hamilton:
"I am thrilled that we have been able to raise such an incredible amount for such an important organisation, despite the closures of the past year. It is even more prevalent now than ever that we need to support those that are vulnerable within our industry."
The Hair & Beauty Charity's Story
#HairdressersHelpingHairdressers
The
The Hair & Beauty Charity
is the official hairdressing industry charity; an independent service dedicated solely to helping hairdressing professionals and ex-hairdressers in the UK in their hour of need. The help provided comes in different forms, depending on the recipient's needs. Visit
thehairdresserscharity.org
for more information…
Pietranera's Story
Founded by the
Pietranera
brothers from Italy, the brand has over 50 years of history and experience. Embodying a style halfway between modern and classic it's easy to see how
Pietranera
appeals to the masses of hairdressers and barbers in the industry. In identity they are completely dedicated to innovation, making investments in research and technology aimed at growth while updating their offering.
Pietranera
is 'situated halfway between object and service, interior design and laboratory lay-out.' Style and function blend together and become
Performance Design
, the company's DNA.
Pietranera
also uses working methods that respect the environment allowing salons to reduce their energy output. Most of the raw materials they use in construction are renewable, or even natural resulting in lower energy bills and a more environmentally-conscious workplace.
Available to browse on our website
Why choose Pietranera and Salon Supplies?
Pietranera
allows you to furnish even the smallest rooms through personalised methods with additional furnishing accessories, suggestions and proposals, which allow our Furniture Team and
Salon Supplies
to deliver to you exactly what you need to fulfil your dream salon or barbering space.
Contact our Furniture Team for more information...
Call: 0844 3356 121 Email:
furniture@salonsupplies.co.uk
Visit: 2nd Floor. Salon Supplies Southampton Bond Street, Northam, Southampton SO14 5QA
Email:
furniture@salonsupplies.co.uk
Call:
0844 3356 121
Opening Hours:
Monday to Friday: 9:00am - 5:00pm
Come and visit us!
With nearly 3000 sq.ft of showroom and 10 different brands under one roof including
REM,
Takara Belmont
,
Karisma
,
Pietranera
,
Insignia Plus
,
PJS
,
Aquaflow
and
GVS
, Salon Supplies can offer anything from supply of a single unit to a full salon refit. For expert advice come visit us today to find your perfect furniture.
We also have a Furniture Showroom in Gloucester
Address:
Unit 7, Tuffley Park, Lower Tuffley Lane, Gloucester, GL2 5DP
Call:
01452 383383
Opening Hours:
Monday to Friday: 8:30am - 5:30pm